Home About Copyright Framing Shipping Photography Pastels & Velour
November 2011MTWTFSS« Oct 123456789101112131415161718192021222324252627282930
Pages
Categories
Recent Posts
Harry
Job Perks!
The Wave
Remembering Ian Turner
Another Painted Horse
Recent Comments
lesley harrison on Harry
lesley harrison on Harry
lesley harrison on Harry
Shalese Sands on Harry
Rita Ria on Harry
Archives
November 2011
October 2011
September 2011
August 2011
July 2011
June 2011
May 2011
April 2011
March 2011
February 2011
January 2011
December 2010
November 2010
October 2010
September 2010
August 2010
July 2010
May 2010
April 2010
March 2010
February 2010
January 2010
December 2009
November 2009
October 2009
September 2009
August 2009
July 2009
June 2009
May 2009
April 2009
March 2009
February 2009
January 2009
December 2008
November 2008
October 2008
September 2008
August 2008
July 2008
June 2008
May 2008
April 2008
Meta
Log in
Entries RSS
Comments RSS
WordPress.org
Blogroll
Alicia Quist
Dakota Pastels
Eline van Waardenburg
Fox Run Studio
Horses In Art Magazine
Ian Turner
Jacky W.
Joni's Ponies
Karen Hargett Fine Art
Kat Witt
Marianne Harris
Mary Marriner
Page's Portraits
Pawzitive Art
Rita Ria
Toni-Marie Hudson
Wildermuth Art
Framing
Framing pastel paintings on velour paper can be a bit of a challenge. But once you figure out how to do it, you'll feel safe that your precious artwork is protected.
After trying different things in my first years of working with velour, my framer and I came up with a solution that I have used for over 30 years. Let me save you the heartbreak of ruined paintings by sharing it with you.
First of all, if you've read my book, you probably remember that all of my velour paper is dry mounted on a 100% rag board. This helps a lot since paper alone just seems to naturally want to curl up or ripple with changes of humidity – not a pretty thing!
So when it comes time to frame, this is how I do it:
The frames are built as if you were framing an oil painting. What I mean by that is they will have a liner (usually made from silk or linen) and a wood molding. This is instead of a frame with a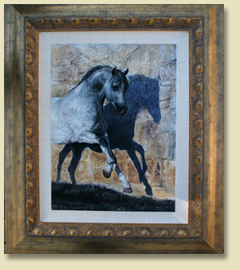 double or triple mat, Ciclone and his Shadowwhich is the traditional waythat most pastels are framed.
Velour is a wonderful paper and gives a stunning visual effect, but the pastel does not adhere to it in the same way as it does on other pastel grounds.
So, what we want to do is to give it as much stability and protection as possible. The way I do that is by placing the glass directly on the painting. Yes, that's what I said, put that glass right on your painting! This is a different school of thought from any other pastel framing method that you will usually hear of and framers usually advise that there be a spacer to keep the finished painting from touching anything – especially the glass!
So, we have a frame that has been built with a liner and a piece of glass cut to fit inside the liner. Turn the frame upside down, clean your glass and place it in the frame from the back. I usually use a hair dryer to blow off any excess dust or cat hairs (a common problem around here…) or anything else that you don't want showing up on the front of your painting.
Here's another little tricky part. Sometimes there will be cat hairs (no…not those cat hairs again! ) on the front of your painting. I have found the best way to remove them without doing damage is to take a piece of masking tape, roll it inside out, put it on your fingers and gently lift the offending hair off the painting.
I used to have a framer who loved to call me and tell me that he had found cat hair or whatever on the face of one of my paintings and that he had taken a vacuum and sucked it off – which, as you know, would have made the painting (or parts of it) disappear! He obviously enjoyed all the shrieking and screaming, didn't value his life, or loved to tease me!
So, now your painting is lyng face down on top of the glass that is inside the frame that is also face down. Now I take a piece of foam core that has been cut to the same size as the opening, and with brads and a brad pusher, secure the foam core (and therefore your painting and the glass) into the frame.
Next, using double-sided tape, the backing paper goes on and I usually gently hand-screw the screw eyes into the back of the frame – no power tools, please! It would be sad after investing so much energy into a painting to ruin it now by being in a rush or using the wrong tools.
I hope this will help you. The other piece of advice I can give you is that, unless you really trust your framer, do it yourself! I will spare you those stories.
Image: Framed pastel painting titled "Ciclone and his Shadow" by Lesley Harrison